Broward County Taekwondo Schools
In the time since the formal creation of the art of Taekwondo, this Korean contribution to the martial world has become the world's most widely practiced martial art.
Teaching Taekwondo in Broward County, The Blackzillians have Master Charles, over 150 gold medals in Olympic Taekwondo on the State, National, International, US Opens and Junior Olympics. Master Charles also finished 5th at Olympic Team Trials in the Olympic Training Center in Colorado Springs, Florida.
From its original roots as the fighting system and martial philosophy of the Korean national military forces, Taekwondo has evolved into several distinct variants. These include those which are more sport-oriented, as exemplified to the highest degree by the inclusion of Taekwondo as an official International Olympic game.
Free Trial
Get a Free Class In Any Program!
Broward County Taekwondo Schools
Welcome to the "Taekwondo Florida" Blog page. This is a home for people in the industry and the public to submit stories, opinions and experiences. Please click on the HOME page to see The Blackzillian website, or submit your content to info@velocitymartialarts.com.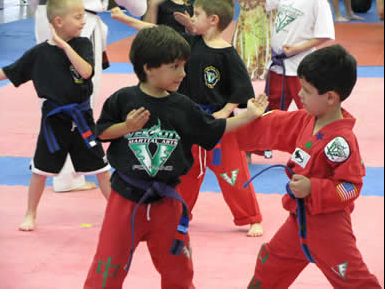 Taekwondo schools Broward County
Taekwondo schools Broward County is one of the most flexible forms of martial art that can benefit people belonging to almost all age groups. This is one of the major factors that have made this art form extremely popular all over the world. In countries like the United States of America where spirituality and humanity have attained a lot of importance owing to the fragmentation of the society it is no surprise that the number of taekwondo learners has gone up at a swift pace. If numbers are an indication of its massive popularity it can be safely said that taekwondo is going to gain further momentum in the coming days.
It has become quite common to find a number of Taekwondo schools Broward County and other cities in South Florida. Owing to the massive popularity of this art form thousands of taekwondo schools have been set up in different parts of the country. However it has also become quite important for the learners to find out the best school that can impart the knowledge of this highly revered martial art. Velocity Martial Arts  and now  The Blackzillians are the leading school of this art and many others in the Broward County area. To find out more about this school for Taekwondo click here.
When selecting a Taekwondo school Broward County a student must consider the following factors:
The first thing that should be taken into consideration while selecting a taekwondo school is the program structure. This is an important factor because the learner must ascertain if the school fits the bill or not. There are some Taekwondo schools Broward County that train students in self defense alone. Alternately there are certain schools that cater to those who are looking at losing weight through martial art. Depending on what you are looking for you must select the most appropriate taekwondo school.
When it comes to mastering an ancient art form such as taekwondo experience matters a lot. A proper training school for taekwondo will be headed by a team of experienced instructors who can help you to learn this art form in a better way. The instructors must also cater to your individual needs to help you out as and when required.
For those who have a hectic schedule and are looking for Taekwondo schools Broward County it is always recommended to go for a training school where classes are flexible. This can help the learners to schedule their activities in a way such that it becomes easier for them to learn the art in a proper manner. There are many schools that follow a flexible training program making it easier for students and working people to attend the classes.